Hello!
Just a quick bit of news from me today ..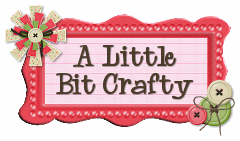 The lovely Paula Holifield is starting a challenge on her blog A Little Bit Crafty from April and she has asked me to be a part of the design team!! So exciting!!
It will be a monthly challenge and there are some fabulous sponsors already arranged!
If you want to display the challenge blinkie on your blog, if you click on the above blinkie, it will take you to Paula's blog and you can get it there!!
So keep your eyes peeled for our first challenge on 1st April and hope to see you all there!!